Static Items
DESTINATION IMAGINATION OF NEW YORK, INC.
The Destination Imagination of New York Board of Trustees is NYDI's governing body.
Board of Trustees meetings usually take place by videoconference on the second Monday of each month.
Please email [email protected] if you would like to attend a meeting.
Subcategories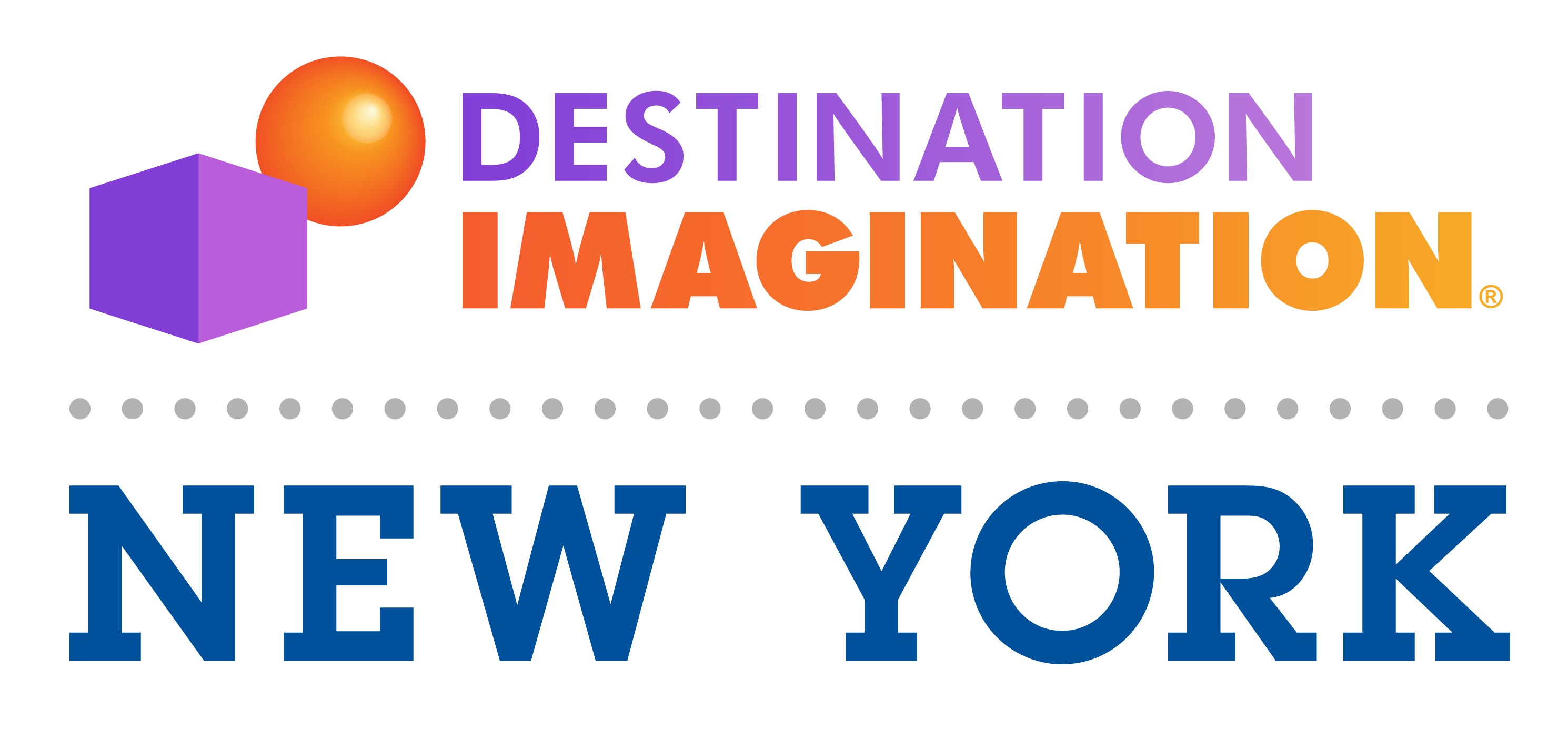 DESTINATION IMAGINATION OF NEW YORK, INC. is the New York affiliate of Destination Imagination Inc.: The world's largest non-profit, volunteer-driven organization devoted to creating educational programs in which student teams gain practical life skills through solving complex open-ended Challenges and presenting their solutions at Tournaments.
Our community and school-based youth program begins in early fall when the year's Challenges are issued. Teams of up to seven students organize, choose their challenge and work for months honing their solution. Volunteer team managers (parents, teachers or community volunteers) facilitate the group, but cannot give technical or other assistance. Teams present their solutions at local, regional and state tournaments, which narrow the field to about 15 teams from each state or international affiliate. These teams compete in the ultimate creativity showdown, Global Finals, each May.
The Destination Imagination® competition has two components:
Instant Challenges teach students to respond quickly to the unplanned event by requiring them to solve a fun, surprise challenge on the spot. Teams must work together to quickly assess the situation and generate an appropriate and creative response within just a few minutes.
Team Challenges require teams to utilize each member's skills in such diverse areas as art, writing, technology, performance, engineering, and music to create a unique solution that can take from several weeks to several months to develop. Students learn to work together as they practice project management skills by meeting deadlines imposed by tournament dates and completing their solution within a specified budget. Teams present their solutions before a live audience and panel of appraisers. Scoring is based on criteria specified in the challenge, which usually includes analysis of the team's innovation, risk-taking and teamwork.
Destination Imagination is inclusive and inexpensive. Membership categories are designed to allow for the greatest number of participants possible. Program costs are minimal and funds for DI can be raised in a variety of ways (see our FAQ for ideas on fundraising). Considering the countless benefits Destination ImagiNation® offers, it is certainly one of the best values in education today. 
This section contains resources which should be useful to teams, Team Managers, and Coordinators.
The information is organized by audience - so click into the section below which is appropriate.
See this section for support materials useful for all NYDI participants and volunteers.
If you are reading this, it is probably because you are a Team Manager looking for guidance or resources, or perhaps you are considering becoming a Team Manager.
We have accumulated a large repository of materials to help you support your teams in solving their Challenges. These can be found here.
We hope that you find this trove useful!
NYDI has produced a series of presentations to help Team Managers better support their teams.
This manual is intended to be used by Team Managers in addition to the Destination Imagination Program Materials. The information offered here does not supersede the rules set out by Destination Imagination. Rather, it is intended as a guide to help Team Managers better understand the rules, and learn how to support their teams.
---
Written: 2003-2004
Minor Revisions: April 2012, November 2012, July 2014
The information is organized to follow the outline presented in the Roadmap. We recommend that you read the Roadmap section followed by the related section in this manual.
This manual is a compilation of suggestions and comments from many different sources. Every effort has been made to recognize the individuals who contributed to its content, but in many cases, we don't know where the material actually came from.
Destination Imagination Coordinators are volunteers who faciliate the program at the local school or organization level.
They are the backbone of our volunteer core, making sure sure that teams are formed, that each has a Team Manager, and that they have access to the Program Materials.
Beyond that, coordinators:
Facilitate communications between DI participants and the sponsoring organization (e.g. school)
Help find resources for teams like skills training, sources of supplies, or other needs
Support team managers through mentoring, etc.
In some cases, organize transportation to distant tournaments
Organize fundraising for their local DI program
Identify potential appraisers and tournament officials
We thank our amazing coordinators for all that they do for NYDI!
See below for some resources which can help in the task of coordinating a local DI program:
This Frequently Asked Questions list is primarily designed for the following audiences:
Those who are considering starting a Destination Imagination team in their area.
Parents and Students who are considering participation in DI.
Participants who are new to DI and want to learn more.
Teachers and school administrators who would like to know more about the program.
Current participants, their Team Managers, and parents are urged to visit Current Participants for programmatic announcements, and the Resources area for helpful team information.
NYDI organizes a series of tournaments each year, in which teams can show off solutions to their selected Challenge. A team of appraisers views each Team Challenge presentation, and each Instant Challenge solution. The day of the tournament closes with an Awards Ceremony in which all teams are acknowledged, medals are distributed to teams which have excelled, and special awards granted where due.
Spectators are invited and highly encouraged to view the presentations! We invite parents, siblings, grandparents, friends, etc. to see their team present their Team Challenge solution. We strongly encourage all teams to come early and stay late, and take the opportunity to see other teams present solutions in their own challenge and in other challenges. Most teams are especially interested in seeing and supporting the other teams from their school or school district.
Note, of course, that Instant Challenge remains "the biggest secret in DI". While teams will solve an Instant Challenge at the tournament, and it is part of their combined total score, this part of the tournament is off-limits to spectators.
Regional Tournaments
Regional Tournaments are held in early spring. They are the first level of competition, and are sometimes referred to as the "Local Tournament". Any registered team is welcome to present their solution at these full day events, which are usually held at a local school or college. See your region page for instructions on how to register your team to participate in a Regional Tournament.
Affiliate Tournament
The top few teams in each challenge / age level at the Regional Tournament advance to our annual New York Affiliate Tournament, which is usually scheduled approximately one month after the Regional Tournaments. The Affiliate Tournament is held in a central location in the state to allow teams from around the state to participate, and serves as our New York State Finals.
Global Finals

Teams which excel at the Affiliate Tournament are invited to attend Destination Imagination Global Finals, the world's larges celebration of creativity.  
Every May, over 1400 teams – over 7500 students – from all over the world gather for 4 days to showcase their Challenge solutions. Over 15,000 people attend Global Finals to celebrate creativity and have fun supporting these great teams.
Tournament Schedule