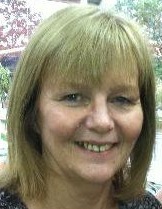 Sue Brailey was drawn in the vortex that is DI when her daughter Abby joined a team in 2000 when she was in 4th grade, starting as a team mom helping team managers and assisting with fundraising. As an attorney, she was drawn to Rules of the Road and became quite well versed in the nuances of the competition. Abby competed for six years, going to the state tournament each year and Global Finals three times. Feeling strongly about "paying it forward" she became an appraiser when Abby's team disbanded. Abby became a runner as she was too young to appraise. As soon as she was eligible Abby became an appraiser as well, and is now our Regional Challenge Master for instant challenge. Sue has been an appraiser at all regional and state tournaments since 2006, and has been an appraiser at Global Finals for 4 years. Most recently Sue has been appointed Affiliate Director for NYDI.
Sue views herself as a DI support person: Doing fundraising for her local Somers teams, helping Dee and Cheryl (prior AD's) with any task possible, and providing support for the Eastern Region. Sue has served on the NYDI pin committee, and aided NYDI marketing efforts. Through participation in the 2013 DI Leadership Conference, appraising at Global Finals and working on 3M Challenge, she has established a good relationship with a number of the folks at DI HQ.
Outside of DI, Sue is an attorney. She was a prosecutor in Westchester County for 31 years and spent the last half of her career conducting environmental criminal investigations and prosecutions. She is currently practicing law in Somers.
Sue tells us that DI changed her daughter's view of the world and that is has blessed both of them with lifelong friends and a commitment to do whatever they can to make DI available to as many kids throughout the state as possible.
Our Mission
NYDI is the New York affiliate of Destination Imagination Inc.: a non-profit, volunteer-led, cause-driven organization.
We inspire and equip participants to achieve anything they can imagine in life.
We offer seven exciting standards-based Challenges in STEM, Improv, Visual Arts, Service Learning, and Early Learning. Each Challenge is open-ended and enables students (K-university) to learn and experience the creative process from imagination to innovation. In solving our Challenges, teams learn important 21st century skills which will prepare them for a brilliant future. Students have fun and gain confidence in their ability to solve any challenge.