"My son tried all sorts of sports and clubs, never really fitting in. Then DI came along and he shone.

It was something he loved and was good at. It gave him teammates, who have become lifelong friends. It gave him confidence. It gave him pride. Without DI he would still be floundering looking for his "thing." Now he is studying physics at a college he never would have dreamed of applying to. He is involved in programs there that he loves. And best of all, he is teaching other students and professors how to build things—because he discovered that most other physics majors don't know how to use power tools (or really any tools!) correctly. And he has used his Instant Challenge skills in many group activities and interviews, emerging as a leader.

"

- Jean Masman, DI Parent and Team Manager
"DI is what was missing from school for my son. He needed the creative outlet DI gave him. I'm grateful for all he (and I) learned from being involved with DI."

- Risa D'Amaso, DI Parent and Team Manager
"I love volunteering for this program. To be surrounded by such creative individuals fills my soul! It's an honor to bear witness to all the hard work of the children and young adults. Our collective future looks bright when the DI participants get to work with their solutions!"

- Michael Huvane, Volunteer and Team Manager
"I love volunteering for this program. To be surrounded by such creative individuals fills my soul! It's an honor to bear witness to all the hard work of the children and young adults. Our collective future looks bright when the DI participants get to work with their solutions!"

- Elaine Hackford, DI Parent and Team Manager
"My children are stronger adults because of the skills they learned being involved in DI. They can think through challenges in life and make decisions. If they make a mistake, they know they can try again. Every child should have this opportunity."

- Michael Huvane, Volunteer and Team Manager
"It is amazing to observe the transformation that DI participants undergo as the year progresses and their Challenge solutions begin to take shape. Watching them present solutions at tournaments is awesome - I am always wowed by their level of creativity!"

- Nancy Woeckener, Volunteer
"10+ years later and I truly believe there's a creative solution to any problem in life and work."

- Tanner Saunders, Alum
"School taught me that I have a brain, but DI taught me how to use it."

- Erin Coyer, Alum
"NYDI is more than just a program, it is a way of life. From constantly hearing 'There is no NO!', you begin to stretch your mind in ways you never thought possible. I've built friendships that have lasted years, a growth mindset to get me where I am today, and the creativity to make every day tasks fun!"

- Samantha Smith, Alum
"DI is my foundation. Whatever situation life throws at me, I approach with a can-do, problem solving, innovative attitude. DI helped me develop confidence at a young age to become the outgoing public speaker I am today. My experience in DI pushed me to think on my feet, use humor and think strategically in my job as a social worker. I am fortunate to have lifelong friendships that all began in DI - my former teammates are my biggest supporters and keep me grounded almost 20 years later! We continue volunteering our time at tournaments each year knowing that kids deserve the opportunity to expand their horizons with imagination and the experiential learning that is DI. "

- Shannon O'Connor, Alum
"My time in DI as a participant and volunteer has created and expanded multiple skill sets that I use on a daily basis. I can see a noticeable difference in creative problem solving, teamwork, flexibility, and ability to maintain a professional attitude during stressful work situations. I can confidently approach most challenges at work and beyond knowing I will be able to work to find an appropriate, creative solution."

- Allison Collins, DI Alum
"Every year I am amazed and inspired by the incredible things that kids bring to this program! I genuinely cannot recommend DI enough—to everyone!"

- Kate Quesada, DI Alum
"My son was one teammate short- so my daughter reluctantly agreed- as long as she was behind the scenes and did not have any lines. As their Team Manager I watched as they (with a lot of input from her) made her the main character and the focus for the story. I didn't say a word. Competition day she was wonderful and they won. She went from this shy little girl to the main character by her own hand. They went on to Globals where the entire team shone. Since then, she has gained so much confidence. She went on to take leadership classes, speech classes and has emerged as a leader. I cannot stress the impact DI had on giving her this confidence. It showed her she can do much more than she ever imagined as that shy little girl.

My son tried all sorts of sports and clubs- never really fitting in. Then DI came along. And he shone. It was something he loved and was good at. It gave him teammates- who have become lifelong friends. It gave him confidence. It gave him pride. Without DI he would still be floundering looking for his "thing". Now he is studying Physics at a college he never would have dreamed of applying to. He is involved in programs there that he loves. And best of all-- he is teaching both other students and professors how to build things. He discovered that most other physics majors cannot use power tools (or really any tools) correctly. As a freshman his professors have him helping the other students in labs to show them how to correctly build their projects. And he has used his Instant Challenge skills in many group activities and interviews - emerging as a leader."

- Patricia Sachse, DI Parent and Team Manager
"The problem solving and quick-thinking skills I developed in DI have been critical to my ability to advocate for marginalized communities in Texas—because the things that make an effective advocate are the same things that make an effective DI kid: being able to identify a problem, the creative problem solving skills to come up with a solution, and the courage to take action. DI changed my life in profound ways and has made me a better advocate, a better citizen, and a better person."

- Charlie Bonner, DI Alum
"DI has impacted my life in so many profound ways, it was essentially my whole life growing up and the things I learned and bonds I made have lasted a lifetime. My team was my family and I really learned how to work well in a team, understand other people's strengths and try new things outside of my comfort zone. I learned how to solve problems creatively and collaborate and brainstorm to come up with the best solution (instead of each person trying to have their idea "win").

I think DI is one of the main reasons I became a Software Engineer, I really was looking for a job where I would get to be creative, think outside the box, and solve problems and I definitely found that working in software. One thing I love about software is that if you give 10 software engineers the same problem you can see 10 different solutions, so working with my team at work reminds me a lot of participating in DI. I also learned how to find the lessons and grow in any situation, especially failure. If you're in an IC and your tower falls at the last second, it's so hard but it taught me how to take what my team did and learn from it and do better the next time without blame. We won as a team and lost as a team.

Overall, DI has impacted me in more ways than I probably even realize and helps me to find the fun in any situation! I feel empowered to solve any problem that comes my way, even if it takes a little extra duct tape to get there :)"

- Alex Hsu, DI Alum
"DI was a huge part of my experience throughout grade school, and it's hard to put into words the ways in which it impacted me. Having a space where I felt comfortable being creative, silly, weird, loud, messy, expressive, etc., etc. was invaluable and just plain fun.

Instant challenges taught me to think clearly under pressure, that it's ok to fail, and to always think outside of the box (if it doesn't say you can't, then you can!).

Teamwork is maybe the single most important value that I took away from my DI experience, and after years of competing in the improv challenge with the same team I think we worked together more smoothly and effectively than any team I've been a part of since -- thanks in no small part to our excellent and very patient team managers.

Last but definitely not least, I formed such wonderful and lasting friendships during my time in DI, and when we get together now we still crack each other up. To sum up, DI inspired me to reach for the stars and I hope it does for you too!"

- Sam Albert, DI Alum
"I was in DI from 2nd grade until I graduated from high school, so I basically grew up in DI. Having to practice teamwork, creativity, and problem-solving so often meant that those skills subconsciously became part of my daily life. Now, when faced with a problem, my instant-challenge instinct tells me to stay goal-oriented, develop a game plan, and delegate tasks to work through the issue with my team. Through year after year of challenges and solutions, DI taught me to dream big and that I can create anything if I put my mind to it. And if plan A fails, which our team seemed to have a knack for back in the day, I have learned to stay resilient and find another way.

I am incredibly grateful for DI and the impacts it has had on my life- not only for the skills I have gained but also the lifelong friends I made along the way. I know I would not be where I am today without my team and DI!

- Amy Wang, DI Alum
"DI taught me many more lessons than I can ever count, but a few that come to mind include:


One can solve nearly any problem with enough duct tape

Being able to articulate and present a solution to a problem is nearly as important as being able to solve the problem itself

Communication in stressful situations is the difference between success and failure

Army surplus stores are amazing sources of inspiration

Artful improvisation can be as impactful as the most well-choreographed presentation

- Elijah Verdoorn, DI Alum
"I have always been inclined toward challenges and good-hearted competition, thus shaping my interest toward areas of study inspired by the lives and ambitious pursuits of history's greats such as Fleming, Curie, Pasteur, Franklin, Newton, and Faraday. The combination of these interests has led me toward an infinitely expanding world of unending knowledge through STEM.

The most enthralling, suspense-ridden, pleasure-seeking experience is an opportunity to try my mind against problems with "no answer". As a rather simple-minded seven year-old kid learning division, I thought long and hard about why you cannot divide by zero. I knew that you could not — simply because Mr. Peterson had told us the day before that it was impossible, but the reasoning behind this was not explained to us.

Perplexed, I began to formulate in my head why three over zero could not be done, all while reinforcing my crusade with the inquisitive belief, "it can't just be impossible right?".

Years later, it was this same reinforcement that My team used to push ourselves when we would sit in DI practice faced with seemingly impossible problems to overcome, like a twelve foot by ten foot stage and a budget of one hundred dollars and the even more impossible task of raising that stage eight feet vertically into the air (and don't even get me started about the autonomous maze traveler).

Now, It is this same reinforcement that allows me to look past the numerous failures of previous experiment trials and methods, and keep trying again and again to until the procedure yields valuable data. Producing results that continue pushing the boundaries of our scientific knowledge.

I believe that the only way to truly advance is through challenging the impossible, facing whatever challenges you are presented with everything you've got. And with DI, those challenges were filled with fun experiences, vibrant creativity, unyielding kindness and service —and of course great life-long friendships I will always cherish."

- Selorm Quarshie, DI Alum
"All the hours spent prepping for Instant Challenges ignited a passion for problem solving that I bring to work every day — it helped me develop a resourcefulness that gives me the confidence to tackle challenging problems with whatever tools I have available. Researching different challenges, studying settings for our skits, and trading pins with people from all over the world at Globals broadened my horizons from an early age… and I've since caught a travel bug that has taken me to 13 beautiful countries so far. Most importantly, DI helped me find my creativity. I brought this to my college in L.A., where I spent many of my weekends working on side projects to tackle issues in our community, shooting nonprofit advertisements for good causes, and generally venturing wherever my interests took me. Without doubt, my 12 years involved with DI shaped who I am today."

- Aditya Shah, DI Alum
"How did DI impact me? I think the better question is how didn't DI impact me? On a daily basis, I draw on the creative problem-solving skills and teamwork mentality that was nurtured in Destination Imagination. It also helped instill a general curiosity in the world, whether engineering or arts, I was always encouraged to ask questions like, "Why does something work that way?" and "How can we change it to be better?" I use these foundational skills every day. But beyond, life skills DI was just plain fun. I gained a lot of great friends many of whom I still keep in touch with! Destination Imagination became a lifestyle for my family with my mom, dad, and brothers all heavily involved. Reconnecting with the organization and the new generation of kids has also brought me a lot of new joy; when their eyes light up with that 'perfect' solution it takes me right back."

- Rob Hackford, DI Alum
"DI taught me collaboration/teamwork, communication, creativity, problem solving, planning, and analytical thinking skills, which I use everyday in my work with customers and with my team. It also gifted me with lifelong friendships, memories, and lessons that influenced what I participated in and achieved in college, and helped shape me into the person I am today! "

- Brittany Lagarejos, DI Alum
"My son tried all sorts of sports and clubs, never really fitting in. Then DI came along and he shone.

It was something he loved and was good at. It gave him teammates, who have become lifelong friends. It gave him confidence. It gave him pride. Without DI he would still be floundering looking for his "thing." Now he is studying physics at a college he never would have dreamed of applying to. He is involved in programs there that he loves. And best of all, he is teaching other students and professors how to build things—because he discovered that most other physics majors don't know how to use power tools (or really any tools!) correctly. And he has used his Instant Challenge skills in many group activities and interviews, emerging as a leader.

"

- Jean Masman, DI Parent and Team Manager
When Does the New York Season Take Place?
---
DI participants consistently share that it is one of the most memorable and formative parts of their education. They describe it as unlike anything they've ever experienced or thought possible before, and they love competing against teams from around the world and making lifelong friends in the process.
Independent research has shown that students who participated in the activities and tournaments provided by DI outperform comparable students on assessments measuring creative thinking, critical thinking and collaborative problem solving.
Destination Imagination is like its own universe, and the fun starts right here in New York at the local level when you form a team.
Fair warning: This is not your average art or science club. Students who participate in Destination Imagination do things like:
Compete for a spot at Global Finals
Engineer solutions to real-world problems
Create original works of art
Design sets, costumes, and props
Students in grades K-12 and college who participate in DI learn:
---
Creative & Critical Thinking
As a parent, there's a lot of pressure to teach our children the skills that will set them up for success in life. Let us take some of the pressure off; you don't have to do it alone! DI is an affordable, accessible program designed to support your child's passions, creativity, and intellect. It's also a chance for you to get an exclusive peek into their daily life, see how they interact with their peers, and watch them learn and grow.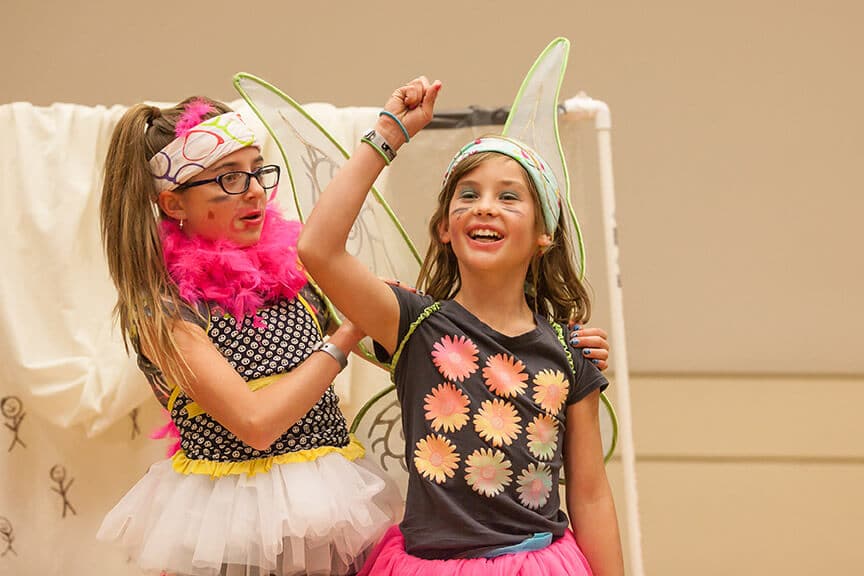 Every committed DI team gets to experience making magic.
---
Quiet kids come alive performing. Kids who like things their own way realize how much better their ideas are with input from their teammates. And if your child hasn't found his or her "thing" yet? No problem. DI will introduce them to a wide range of ideas, skills, and activities. No matter what Challenge they choose to solve, there's something for everyone. Even the most technical and scientific Challenges need storytellers, costume makers and prop builders!