march 18, 2023
2023 NYDI Affiliate Tournament
New York teams that exceled at their Regional Tournament were invited to present their Challenge solutions at the 2023 NYDI Affiliate Tournament, taking place on March 18, 2023. The tournament took place at
SUNY Broome Community College
, located in Binghamton, NY.
---
---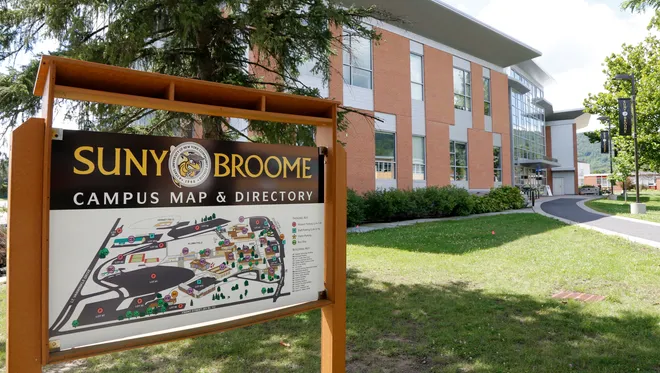 What Happens at the Tournament
Our tournament is a celebration of creativity where teams show off the solutions to the Challenges that they have been working on for the past several months, and where we acknowledge their teamwork, creativity and problem-solving skills.
Destination Imagination is a spectator sport! Family, friends and supporters are welcome to attend!
Teams will present the Team Challenge solutions that they have been working on for the past months, in front of Appraisers, and an audience of their peers, parents, supporters, and other teams.
Teams will also solve an Instant Challenge — a secret problem that will be presented to them on the day of the Tournament.
Our Appraisers will give the teams feedback on their solutions, and score the solutions of teams in competitive Challenges.
Teams and their supporters are invited to come early and stay late to see as many other teams perform as they can.
There will be other fun activities for teams, including pin trading, and other activities.
At the end of the day we will hold our Closing Celebration and Awards Ceremony, where will will acknowledge the teams' hard work, distribute medals to teams whose solutions excelled, and announce which teams will be invited to participate in Global Finals '23.
---
Tournament and Pre-Tournament Procedures
All teams are advised to read:
Tournament Guide for Teams, which has important instructions about pre-Tournament and at-the-Tournament procedures.
Your Challenge (again), so you don't get caught out by rules that you may have forgotten or overlooked.
Rules of the Road (again), which has lots of details about Tournament procedures.
The Published Clarifications for your Challenge.
---
Tournament Registration
will be available to advancing teams shortly after the Closing Celebration of your Regional Tournament! Please visit
Register Your Team
 to start the registration process. You can log in using the same credentials that you use to access the Resource Area. Registration must be completed by March 9 to avoid late fees.
---
Holiday Inn Downtown Binghamton is designated for Tournament Officials only.
Teams may not book rooms there!
---
To streamline check-in at each Challenge, the documents that the Appraisers will need when evaluating your team's solution must be submitted online, in advance of the tournament.
The required forms include:
Tournament Data Form [competitive teams only] (tdf)
Starry Showcase Form [Rising Stars teams only] (tdf)
Expense Report (exp)
TC Prep
IC Prep
Please note: A different subset of the forms listed above may be required depending on your Challenge.
Submission instructions:
The submission page is in the Resource Area at Teams → my tournaments
Use the button in each column to access the submission forms.
Your submission is not complete until you click the Submit button at the bottom of each form.
Deadline:

Please submit before Wednesday, March 15 to avoid the last minute rush!
All documents must be submitted by 11:59pm on Thursday, March 16.

Our Prep Area Appraisers will review your submission within 48 hours, and may respond with questions, so please remember to check your email!
See your Challenge, Rules of the Road, Resource Area Hints & Tips and Tournament Guide for Teams for more details.
---
Pre-Order your Champ Pack!
Every team must complete the Champ Pack & Pins Pre-Order Form 2023 by March 14 so that we can have a Champ Pack ready for your team if they advance. This is also where you can pre-order 2023 NYDI Trading Pins and Team NY Shirts for delivery at the Tournament, and receive a discount. See the form for detailed information about this year's Champ Pack.
It's been said that pin trading is the social glue that binds teams from around the country, and around the world, together at Global Finals. Team members get to meet kids on other teams from places far away, and bond as they trade a pin, or trade sets of pins, to build their collection.
Most team members want to have a set of NY pins for themselves (to keep as a souvenir), but they also want to be able to trade with teams from other states and countries. We usually suggest purchasing at least 2 extras of each set to make that possible. Of course, there are also kids (and adult supporters) who want lots of pins to trade; that's why we also offer the larger bulk / discount packs.
See our Champ Packs page to learn more.
---
Where to be, When to be there
All teams should report to Tournament Registration, located in the lobby of the Student Center building at SUNY Broome, before loading any props or equipment into the building.
The green arrow ➜ on the map hows the entrance to use for registration.
It is sufficient for one Team Manager to come to Tournament Registration; it is not required for the entire team to report there.
Do NOT bring your props or other equipment to Tournament Registration!
Do NOT enter any building on campus before checking in at Tournament Registration!
Maroon arrows ➜ on the map indicate prop load-in locations!
Click on the arrow to see which challenges are loaded there.
---
Click on the link for a Google Map of the location (zoom out for context):
---
Closing Celebration and Awards Ceremony
The
Closing Celebration and Awards Ceremony
will take place in
Baldwin Gym (in the Student Center)
at the end of the tournament day, after all of the performances, and after scores have been tabulated (starting at approximately 3:30pm).
The ceremony will start with a celebration of ALL teams. We always say that if a team has presented a solution at the tournament, then they are winners, regardless of how they rank against other teams. That may sound trite, but we really believe that the experience of working on and presenting a solution is fun, formative, forward-looking, and worthy of celebration!
There will be a brief acknowledgement of all of the Team Managers, Appraisers and Volunteers who put their time and effort into making the tournament possible.
Medals will be awarded to the 1st, 2nd and 3rd place teams in each age level of each competitive Challenge.
Special Awards may also be issued to teams or individuals who are especially worthy.
We will announce which teams will be invited to Global Finals '23.
---
The top two teams in each Challenge / Level will be invited to participate in Global Finals 2023, taking place in Kansas City, Missouri on May 20-23, 2023.
In the case of a tie, the tied teams will advance according to their rank, and will not affect the advancement of teams at a lower rank.
In order for a team to advance, the Challenge Master must certify that the team has made a good-faith effort to solve the Challenge, and the team must not receive any significant deductions for Unsportsmanlike Conduct.
For details about our advancement policy, see 2023 NYDI POLICY FOR ADVANCEMENT TO GLOBAL FINALS.
---
We are happy to say that:
Teams will be allowed to perform without masks, if they choose.

Teams will be allowed to stay and watch other teams perform.

We will have an in-person Closing Celebration and Awards Ceremony at the end of the day.

We will NOT require proof of vaccination or a negative COVID test.
However, in light of the recent up-tick in COVID, Flu and RSV cases, and the currently High COVID-19 community level in many communities throughout New York, tournament attendees are strongly encouraged to:
Wear a face mask in indoor settings, especially if they are unvaccinated.
Stay home if feeling ill, or if they know they have been recently exposed to someone who is ill with COVID, Flu or RSV.
Bring a high-quality mask with them to the tournament.
Limit the number of spectators that you invite to the Tournament. We suggest at most 3 spectators per team member.

 Individuals who are serving as Appraisers or in other NYDI volunteer roles do not count toward this recommended maximum.
Masks may be mandatory in certain locations:
When Appraisers are conferencing with the team after the performance.

In the Play On (Rising Stars) performance area.
In any area where there may be participants or officials who are medically vulnerable.

Any area that is overly crowded.
Really, we mean it: If you don't feel well, STAY HOME!
Teams can perform even if one or more team members are missing at the tournament. There is no requirement for 100% attendance.

No penalties or score reductions will be imposed because of a missing team member.

Note that [even when there is no pandemic] it is always a good idea for teams to be prepared for breakdowns, including the possibility of a team member not being able to attend the Tournament due to illness. This is a scenario that has happened to many teams before, and we are happy to report that often those teams have won their Challenge / Level, received special awards, and advanced to higher levels of competition.
If you have been in recent contact with someone who has (or may have) COVID, Flu or RSV, STAY HOME!
Finally, we remind everyone that these rules are based upon the situation as we know it today. If the infectious disease community level changes, we will revise these procedures.
We know that this adds complication to our usual celebration of creativity, but as we are sure you will understand, we want to make sure that none of the kids become ill as a result of participation in the tournament.
Affiliate Tournament Venues
---
Affiliate Tournament Schedule
---
IMPORTANT!
This schedule is FINAL. We are no longer accepting change requests.
Please force refresh / bypass your browser cache  to ensure that you are seeing the latest version of the schedule!
Notice a problem? Contact

[email protected]

immediately for guidance!
Emails from NYDI always take precedence over this web page!
All teams should re-verify their performance times when they register on the day of the tournament.
Check-in time varies by Challenge (it is earlier for Engineering)
Curious about the scheduling process? See WHY IS THE TOURNAMENT SCHEDULED THIS WAY?