Tournaments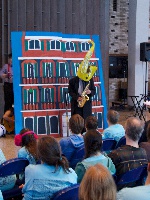 NYDI organizes a series of tournaments each year, in which teams can show off solutions to their selected Challenge. A team of appraisers views each Team Challenge presentation, and each Instant Challenge solution. The day of the tournament closes with an Awards Ceremony in which all teams are acknowledged, medals are distributed to teams which have excelled, and special awards granted where due.
Spectators are invited and highly encouraged to view the presentations! We invite parents, siblings, grandparents, friends, etc. to see their team present their Team Challenge solution. We strongly encourage all teams to come early and stay late, and take the opportunity to see other teams present solutions in their own challenge and in other challenges. Most teams are especially interested in seeing and supporting the other teams from their school or school district.
Note, of course, that Instant Challenge remains "the biggest secret in DI". While teams will solve an Instant Challenge at the tournament, and it is part of their combined total score, this part of the tournament is off-limits to spectators.
Regional Tournaments
Regional Tournaments are held in early spring. They are the first level of competition, and are sometimes referred to as the "Local Tournament". Any registered team is welcome to present their solution at these full day events, which are usually held at a local school or college. See your region page for instructions on how to register your team to participate in a Regional Tournament.
Affiliate Tournament
The top few teams in each challenge / age level at the Regional Tournament advance to our annual New York Affiliate Tournament, which is usually scheduled approximately one month after the Regional Tournaments. The Affiliate Tournament is held in a central location in the state to allow teams from around the state to participate, and serves as our New York State Finals.
Global Finals

Teams which excel at the Affiliate Tournament are invited to attend Destination Imagination Global Finals, the world's larges celebration of creativity.  
Every May, over 1400 teams – over 7500 students – from all over the world gather for 4 days to showcase their Challenge solutions. Over 15,000 people attend Global Finals to celebrate creativity and have fun supporting these great teams.
Tournament Schedule
2021 NYDI Affiliate Tournament (Virtual) - April 10, 2021
2020 Team NY at Global Finals
2020 NYDI V-Celebration of Creativity - April 4, 2020
2020 NYDI Western Regional Tournament - March 21, 2020
2020 NYDI Eastern Regional Tournament - March 14, 2020
Instant Challenge Fiesta
2019 Team NY at Global Finals
2019 NYDI Affiliate Tournament - April 6, 2019
2019 NYDI Eastern Regional Tournament - March 16, 2019
2019 NYDI Western Regional Tournament - March 23, 2019
2018 Team NY at Global Finals
2018 NYDI Affiliate Tournament - April 7, 2018
2018 NYDI Eastern Regional Tournament - March 10, 2018
2018 NYDI Western Regional Tournament - March 3, 2018
2018 NYDI Central Regional Showcase - March 2018
2017 Team NY at Global Finals
2017 NYDI Affiliate Tournament - April 8, 2017
2017 NYDI Central Regional Showcase - March 25, 2017
2017 NYDI Western Regional Tournament - March 25, 2017
2017 NYDI Eastern Regional Tournament - March 18, 2017
2016 Team NY at Global Finals
2016 NYDI Affiliate Tournament - April 9, 2016
2016 NYDI Central Region Showcase - March 19, 2016
2016 NYDI Western Regional Tournament - March 12, 2016
2016 NYDI Eastern Regional Tournament - March 5, 2016
2015 Team NY at Global Finals
2015 NYDI Affiliate Tournament - April 18, 2015
2015 NYDI Western Regional Tournament - March 21, 2015
2015 NYDI Central Region Showcase - April 11, 2015
2015 NYDI Eastern Regional Tournament - March 7, 2015